MotoGP Racing '23
12.0.4
A Very Intriguing Moto Race Game
Riding motorbikes is an exhilarating experience as the wind in your hair as you power your way through on the bike can make you feel on top of the world. Heavy bikes make the experience even more fantastic as you get more control and you are able to hit higher speeds as well. Any experience that involves speed would always involve racing as well and this is what has given rise to the MotoGP competition. As F1 is the premier speed racing competition for cars, MotoGP is the premier racing competition for motorbikes with all the main bike manufacturers like Honda, Ducati, Suzuki et al. taking part in the competition with their teams. MotoGP winner usually are riders who have the most skill and have the best bike as well. It is an important combination that is difficult to crack as well. While watching the MotoGP on your TV, you may want to take part in the competition too and sometimes also feel that you could simply beat most of the riders out there. While actually taking part may not be possible for you but you can live the life of a MotoGP rider with the intriguing moto race game – MotoGP Racing.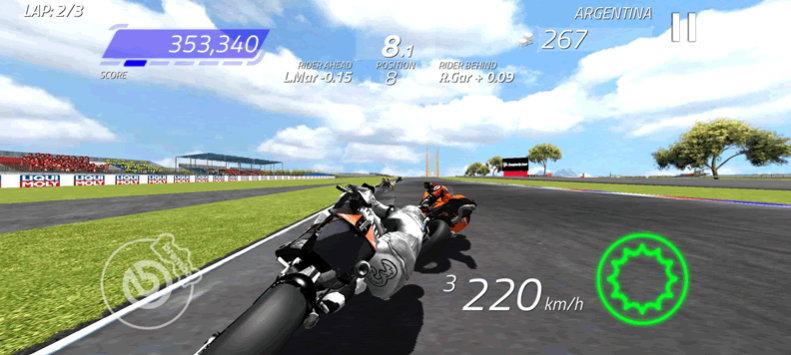 The moto racing game has a very professional feel to it with the game's design ensuring that the user gets pulled into the frame of mind of a MotoGP racer. You are prompted to select your bike manufacturer as well as your lead sponsor with the process guided by renowned MotoGP commentator. You start off as a rookie in your first season and earn points as you go on. The game is designed in such a way that you can prosper in the game without any external purchasing but in that case you would have to watch a lot of ad videos. This is a fair enough option for users who don't want to spend any money to get ahead in the game.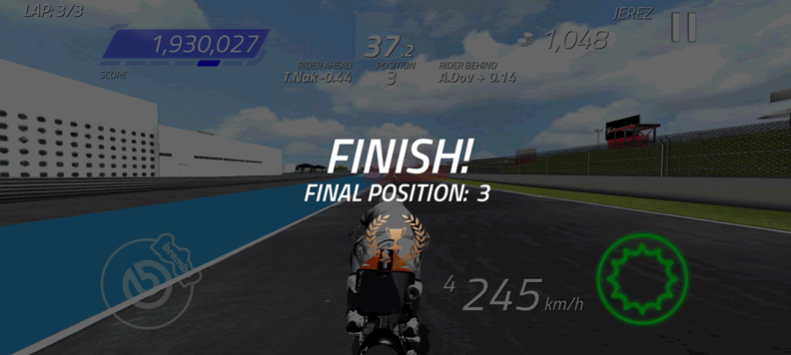 The moto racing game does not have any tutorial but the game provides a lengthy video guidance on how to use the gaming controls during the race. The lack of a tutorial isn't a hindrance because of the video guidance before the start of your first race as it serves as the tutorial instead. While it may take you the first race to get an understanding of the controls and how the race works, it is still not a steep enough curve that you would simply want to stop playing the game.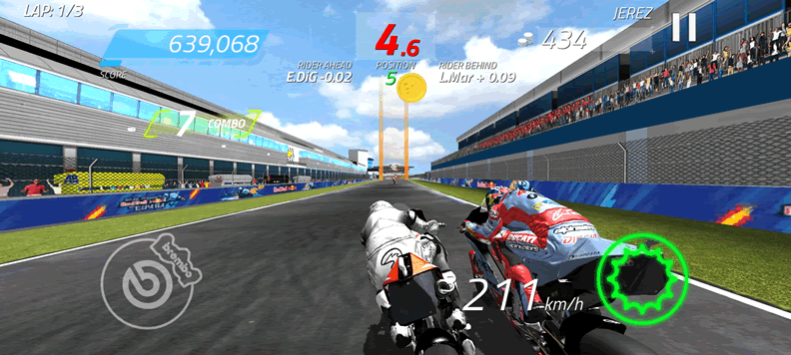 The controls are easy enough. You don't need to control the bike's sideways movements and only need to concentrate on when to brake and when to accelerate. There are only two button based controls present on your screen and you need to decide when you want to accelerate and when you want to brake. The game guides you with green (acceleration zones) and red (braking zones) checkmarks and you need to time your transitions accordingly to gain traction against your fellow racers.
The gaming fundamentals are pretty realistic and ensure that you get a full-on experience of a MotoGP race. The high quality graphics are also a surprise and make the gaming experience even more entertaining.
Features:
Excellent gaming engine that provides a smooth racing experience
Easy to understand and very responsive gaming controls
Good video explanation of how the race and gaming controls work
Wonderful selection of bikes of different manufacturers available for selection
Superb gaming background that gives you analysis of your scores
Easy to upgrade your bike with points earned while racing
Conclusion:
MotoGP Racing is a fantastic moto racing game that delivers a very realistic gaming experience. With wonderful graphics, easy controls and excellent overall gaming background, this game is a true gift for all MotoGP racing fans!
RELATED PROGRAMS
Our Recommendations
---
---
---
---